Milk 53% Chocolate with Pumpkin Seeds and Cinnamon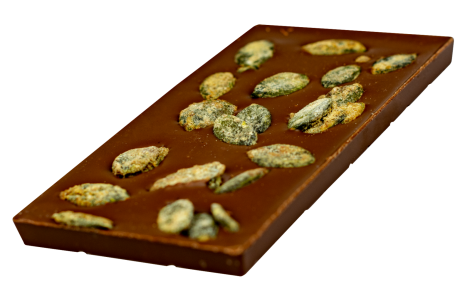 Milk 53% Chocolate with Pumpkin Seeds and Cinnamon
PUMPKIN
This autumn themed chocolate was a huge hit last year mainly thanks to its headline ingredient: caramelised pumpkin seeds covered in cinnamon. Add the smooth taste of our 53% milk chocolate blend into the mix and the result is simply irresistible. We're sure that many among you will appreciate the Halloween inspired collage on the cover designed by Martin Kaiser.
chocolte (cocoa butter, milk powder,
cocoa beans, cane sugar)
topping: pumpkin seeds in sugar and cinnamon (12%).
Cocoa solids min.: 53%
May contain traces of hazelnuts and almonds.
Store in cool and dry place.
119 Kč
103,48 Kč excl. VAT